Garden of Dreams
Group Exhibition
February 25 – March 14, 2022
Curator: Shirin Gharavisky
"Garden of Dreams" is a group exhibition featuring artworks by twenty eight Iranian artists at Soo Contemporary scheduled to open on February 25, 2022. Themed around Sigmund Freud's "The Interpretation of Dreams" (1889), the exhibition seeks to present how the socio-political environment and life experience shapes dreams as well as the artists' unconscious mind. The artists have been invited to present works themed around dreams, dream life, and projection, through media such as painting, installation and video. The themes and subject matters of the exhibition are set to be some of the ideas explored by Freud in his monumental work. Freud, in his introduction, categorizes dreams as meaningful and valuable events, and contemplates on the idea of dream interpretation as a technique to study supersessions and unrealized hopes. In his technique, Freud traces particular elements in dreams, aiming to find the hidden references to reality they carry with them, the very notion of pleasure without any spatio-temporal allusions. He subsequently investigates the idea of symbolism and how elements and objects in a dream can correspond to real-life feelings, suppressions, hopes, and objects; e.g. the genitals represented in dreams as umbrellas, cigarettes, flowers, fruits, wild animals, etc. Freud does not look at dreams as merely agents carrying information, but rather insists on his technique of dream analysis as a means to decipher the language and symbolism of dreams. He ends his introduction by claiming that the function of dreams is to protect the subject from waking up and directly facing reality. Freud was determined that dreams carry a meaning and was adamant on finding a methodical approach to dream interpretation. One of his earlier methods was a non-critical self-reflection, in which he asked the patient to get comfortable, close their eyes, and express all of their thoughts in an unbiased and stream-of-consciousness way. Using such methods, he could access the mental chain of ideas and diagnose the patient. As so, a restful sense of falling into sleep would be simulated and the patient would self-analytically unravel the source of their malady. Freud also analyzes nightmares, exploring how they also correspond to desires while themselves undesirable or even painful experiences. In his study, Freud also investigates censorship and how it forms and transforms, and gives the example of an author who, reacting to the tightening of freedom of expression in their country, increasingly evokes metaphors and use figurative language. As so, he concludes that a patient who lives in an oppressed society, experiences the alteration of their dreams into deeper levels of symbolism. In the course of his examination, Freud makes an example to portray his idea more clearly: a country's public is raising their voice against a despised politician and ask their leader to oust the person from power, yet the authoritarian leader, practicing their power against the public's will, promotes the politician, a move that they would normally not make. In the final chapters of his book, Freud discusses how memories of dreams is stored and retrieved, and how the mind censors the contents of dreams. To battle this, he would ask patients to retell their account of their dreams, and he would most often observe that the patient would not use the exact same words in their retelling. For Freud, such changes in the way they would express their dreams would indicate that resistance of the patient for revealing the true nature of their dreams. As so, the resistance would turn into a process of forgetting. In addition to the subjects, processes, themes, approaches and general ideas discussed directly in Freud's "The Interpretation of Dreams", this project takes into account some of the more implicit ideas to approach the works displayed. For instance, the role of censorship and the building up of mental resistance is explored on a broader and more social level rather than its personal attributes and connotations. Most notably, it is studied in terms of how it deprives us from accessing deeper levels of meaning, and how artistic expression, imagery, and ideas such as synesthesia could contribute to the understanding, interpretation and analysis of collective dreams.
Shirin Gharavisky/ Curator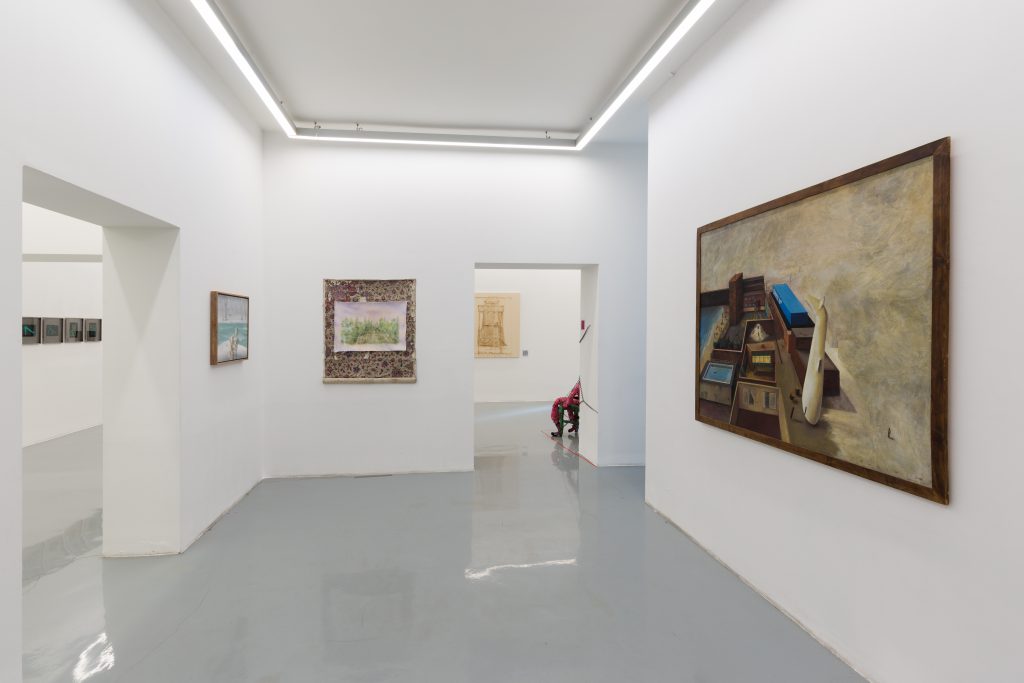 Artists:
Koorosh Shishegaran,Nicky Noudjoumi, Hamed Sahihi, Ashkan Sadeghi, Sale Sharifi, Ali Shayesteh, Bahman Mohammadi, Reza Sharifi, Yasmin Salehi "Miiiin", Milad Nemati, Sara Ranjkeshan "Saraanj", Farshido Larimian, Ashkan Behjou, Faxteh Shamsian, Mahsa Mohammadi, Soroush Gharehbaghi, Shahin Entezami, Leila Ghomi, Sanaz Haeri, Paniz Sohrabi, Taba Fajrak, Maneli Aygani, Soha Derakhsh Donya H.Alipour, Maryam Amirvaghefi, Mahmoud Saki, Afra Farahnak, Erfan Aboutalebi, Razi Jodaie, Fatima Hosseinnezhad.